Organization 
Stating the obvious, every organization is different in terms of purpose and size. From an asset management perspective, the figure below shows recommended positions for the ideal organization.
But because not every organization is the same there can be many omissions, in which case, it all comes down to how you use the staff you have. For example, if no core team exists, then all of those duties fall to the CMMS Administrator. If no reliability team exists, then failure analysis falls to the reliability engineer. If no reliability engineer exists then the planners become the "go to" guy.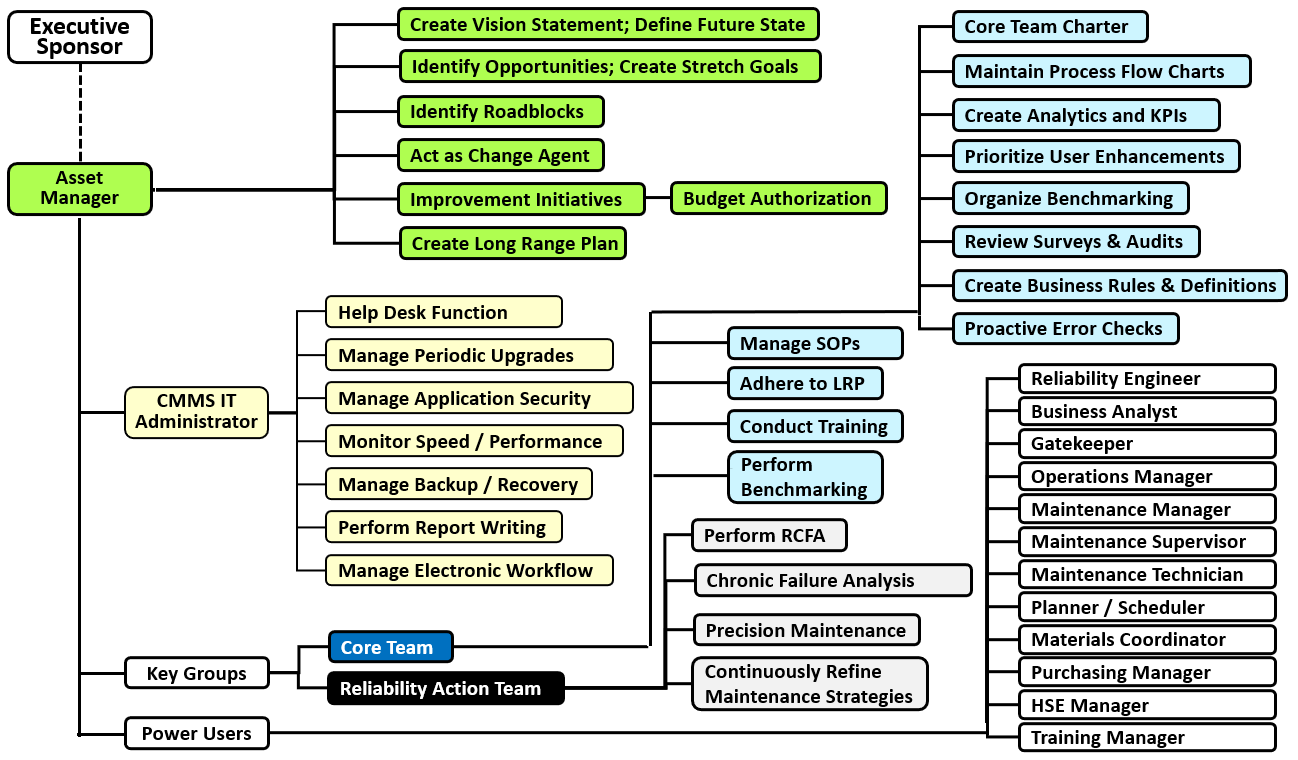 Technology
The CMMS, although not a department, plays a key role in the success of the organization by adding efficiency and decision-making capabilities, such as:
Power features such as automatic PM-WO generation and auto-reorder of spare parts. 

Work order print report; daily plan matrix, weekly maintenance schedule, backlog trend reports, etc.

Mobile solution (in addition to desktop).

Bad actor report with sort-metric such as average annual maintenance costs divided by replacement cost.

Store asset criticality calculations and asset condition grades.

Ranking of the backlog based on a prebuilt work order matrix.

Failure coding and work order feedback.
Process Efficiency
The software can be world-class but it is still up to leadership to implement efficient processes.
For example, it is helpful to the maintenance staff if jobs are planned and scheduled in advance. The planning process provides sequential job steps, craft estimates, part requirements, special tools, safety plans, permit requirements and documentation. The spare parts can be stored in a warehouse for ready access. The CMMS can provide a spare-part-to-asset cross reference making it easier for the planner to build work packages. Parts can also be staged - provided a schedule is produced in advance. Plus, there can be prebuilt job plans for quick reference by the planners. Work scheduling (e.g., weekly maintenance) requires work order estimates, craft availability (headcount and planned absences), and accurate backlog ranking.
The goal is to establish a design and process that helps the maintenance staff perform precision maintenance – in a timely manner.
In my opinion, 80% of all potential improvement resides in the surrounding process and roles. What do you think? Share your opinion in the replies below