No one likes when things go wrong, especially when it happens without an explanation. How are you supposed to prevent a problem from occurring again when you don't even know what caused it in the first place? In the world of reliability, failure codes exist to try to avoid this situation.
Failure codes are shorthand descriptions of how an asset failed. When attached to work orders, they help you track a component's failure history and determine ways to prevent future issues. Fiix customers with an Enterprise subscription can use failure codes to see trends in asset performance, costs, and more. 
In this post, we'll explore how failure codes work in Fiix, the benefits of using them, and how to set them up. 
---
How failure codes work in Fiix 
They are made up of problem, cause, and action codes (e.g., Leak → Hole → Replace)
Failure codes are attached to work orders to document where and when action was taken
CMMS admins can nest failure codes so problems, causes, and actions are clear and easy to log
The Fiix analytics tool tracks common problems, actions, and the impact of both over time
Here are a few examples of failure codes in Fiix:
Abbreviated failure codes

Alphanumeric failure codes

ADJS

Equipment adjustment required

P001

Excessive noise

ALIN

Misalignment

P002

Excessive vibration

CALB

Calibration problem

P003

No/low flow

LLUB

Lack of lubrication

P004

Overheated

XHOT

Overheating or smoking

P005

Non-operational
---
The benefits of using failure codes in Fiix
Standardize the way you collect failure data across shifts and sites
Demonstrate due diligence and compliance for audits and standards like ISO 14224 and SAE JA1012
Conduct RCAs without starting from scratch
Boost work order completion rates by helping technicians log data quicker
See comprehensive and in-depth failure histories for assets
Search and filter work orders with the same failure codes to see how issues were fixed
Use failure data to make and justify purchases and CapEx decisions
Adjust the frequency of PMs and SMs based on failure rates
---
How to set up failure codes in Fiix
There are no hard and fast rules for setting up failure codes in Fiix. But there are best practices that'll help you and your team collect more data and make decisions as quickly as possible: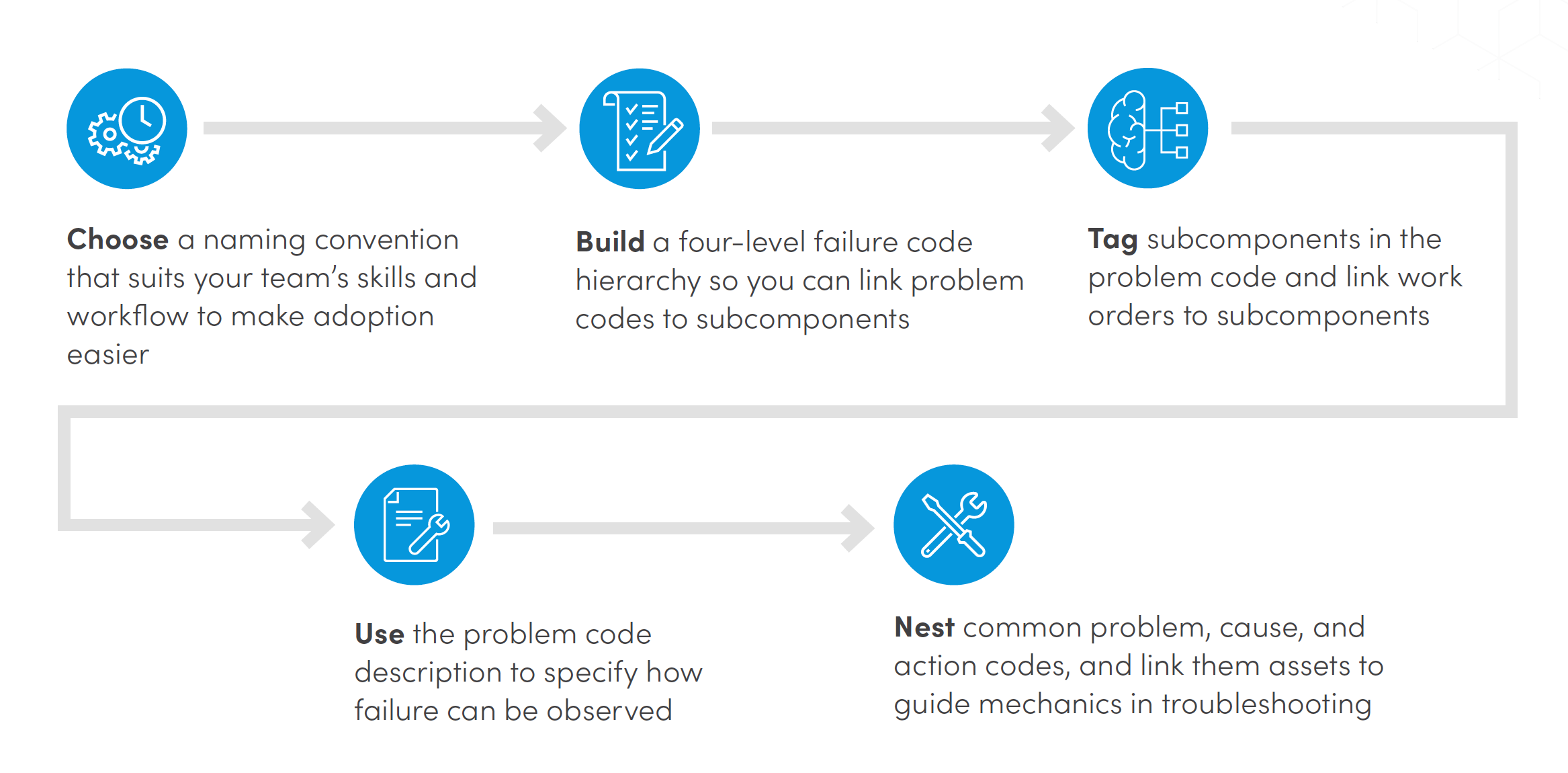 Here's how you can create a four-level failure code hierarchy in Fiix: 
| | | |
| --- | --- | --- |
| Level | Information | Example |
| 1 | Asset → subcomponent | Tank farm → Tank no. → Agitator → Motor |
| 2 | Problem code | The first sensory observation by the technician. E.g., Pump is noisy |
| 3 | Cause code | Lack of lubrication, dirty, speed set too high, etc.  |
| 4 | Action code | Repair, replace, clean, etc. |
---
Next Steps
We've created a short explainer guide that you can download below and share with your team. It summarizes the key points above and dives a bit deeper into common do's and don'ts and additional resources. 
How do you use failure codes in your CMMS? Tell us in the thread below 👇