For facilities looking to break out of a reactive maintenance rut a preventive maintenance plan can do wonders, but where do you begin? While this may sound easier said than done, this article will break down the 8 steps you should take to build a solid foundation for your preventative maintenance program (and set it up for success).  
---
But first: what is a preventive maintenance program? 🗒️
It's a series of processes, guidelines, and tools for conducting regular and routine maintenance on equipment and assets to keep them in good condition to avoid failure and costly unplanned downtime.
A preventative maintenance plan makes everything clearer, so the path to reliability is obstacle-free. Goals and responsibilities are defined, timelines are understood, and all necessary resources are accounted for. Everyone knows what success looks like and how to sustain it.
---
A preventive maintenance plan should include eight steps at its foundation: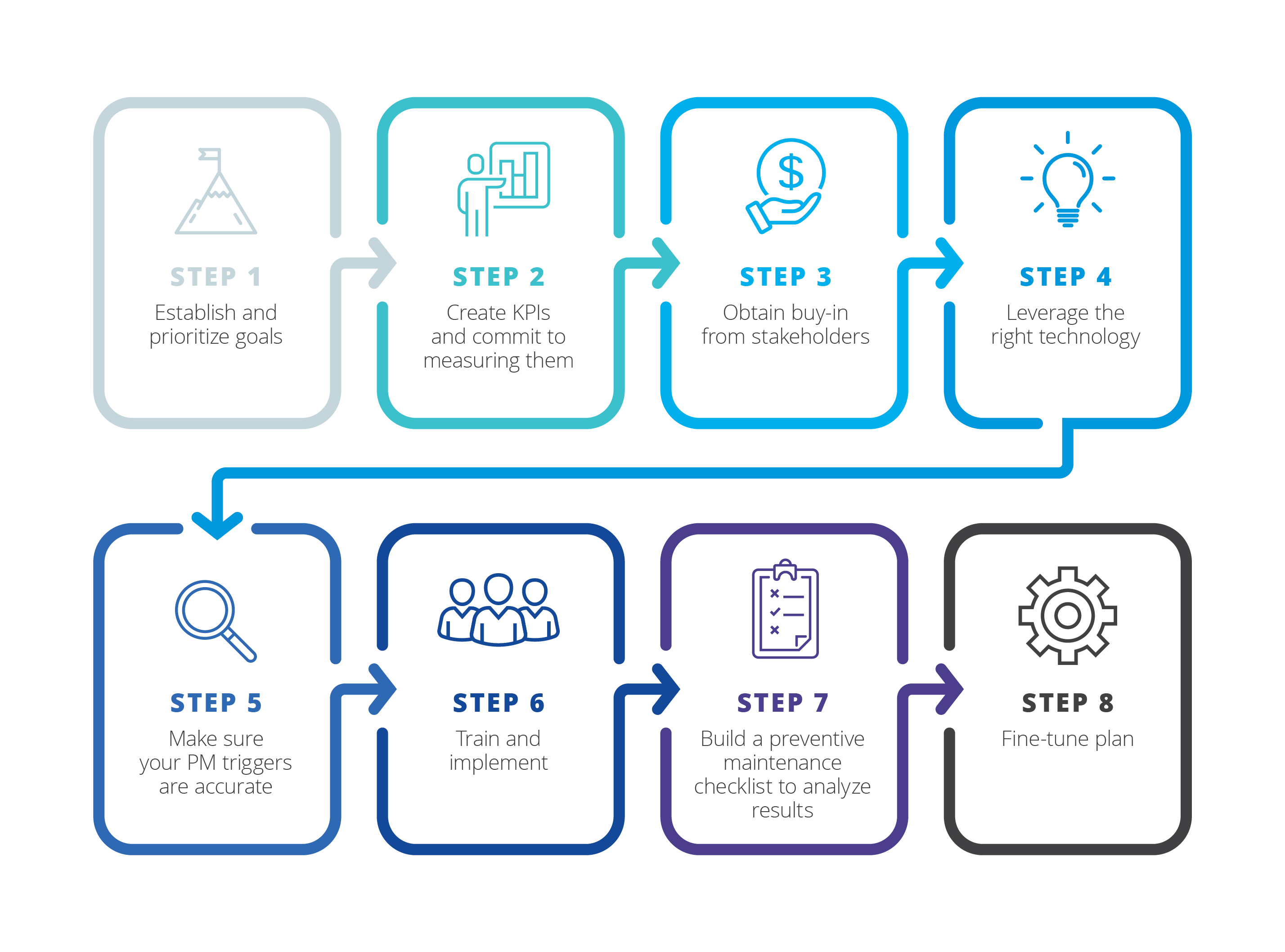 Remember, Each facility has different goals, assets, and resources, which is why there's no one-size-fits-all approach to creating a preventive maintenance program. That said, following these 8 steps will help you build an effective blueprint for success, and make your operation more efficient and sustainable.
Step #1: Establish and prioritize goals
Start by writing down what you want to achieve. Do you want to reduce downtime? Increase reliability? Cut costs? Then, prioritize your list of goals so you know where to focus your time and resources first.  
Step #2: Create KPIs and commit to measuring them
It's hard to know if a preventive maintenance program is working without establishing concrete targets. Some commonly used maintenance metrics include:
Scheduled maintenance critical percent
Planned maintenance percentage
Preventative maintenance compliance
Overall equipment effectiveness
Mean time between failure 
Once you know which KPIs you'll be using to define the success, the next step is to create a framework for consistently measuring these metrics. This means building processes and procedures that ensure data is collected, analyzed, understood and actioned on a regular basis. 
Step #3: Obtain buy-in from stakeholders
Total buy-in is crucial as an effective preventative maintenance strategy requires everyone to chip in, from a maintenance manager or technician who must input data to a reliability engineer who reads that data and makes decisions based on it. 
Step #4: Leverage the right technology
A digital solution lets you efficiently arrange all the smaller preventive maintenance tasks required for your facility to embrace this new mindset, such as scheduling, inventory maintenance management, reporting and organizing work orders. 
Step #5: Make sure your PM triggers are accurate
Matching maintenance tasks with the right trigger will help your operation flow efficiently and will ensure assets are as reliable as possible. These triggers should also be known by all members of the maintenance team so no maintenance task falls through the cracks. Automated scheduling and mobile notifications are two tools that make this simple to do.
Step #6: Train and implement
Create a training strategy so everyone can get up to speed on proper equipment maintenance. Make sure it covers any new technology as well as any processes and procedures that come with a shift to preventive maintenance, such as prioritizing work orders, creating failure codes, and accessing documents digitally.
Step #7: Build a preventive maintenance checklist to analyze results
It's important to prioritize inspection and keep an eye on the numbers, so make sure you have a preventative maintenance checklist to help you to consistently track KPIs, such as mean time to repair, planned maintenance percentage and mean time between failures. Analyzing these stats and comparing them to pre-plan numbers should give you a good idea of how your program is impacting the efficiency of your maintenance operation.
If you are looking to build a preventive maintenance checklist, check out our guide👇
Step #8: Fine-tune the plan
Your preventive maintenance program should always be under construction as you continually fine-tune, improve, fill in the gaps and fortify procedures that are working well. Use the data you capture through sensors, work order notes and digital reports to see where strengths and weaknesses lie. Uncover opportunities to improve and focus on embracing preventive maintenance wherever possible in your operation.
---
The bottom line on building a preventive maintenance program 🔧
Creating a successful, sustainable, and effective preventive maintenance program doesn't happen overnight. It takes a lot of planning, but it's worth it when you reap the many benefits it provides. And once you have a solid program in place, there's always room for growth, like expanding into predictive maintenance.
Does your facility have a preventive maintenance program? If so let us know below how that has helped your overall maintenance strategy. 👇